Welcome to work with Robyn Vaughan's business resource page and congratulations to you for taking the first step to financial freedom! Here I will share with you valuable business building resources, solutions, guidance & support from the top six figure earners and mastermind guru's that I had the pleasure of working with like Norbet Orlewicz & Brain Fanale Founders of MLSP, one of the top lead generating systems. Tim Erway a father who lived homeless with his son & Jonathan Budd with Magnetic Sponsoring's cash flowing lead generation, funnel systems and Elite Marketing Pro.  Ferny Ceballos & Raymond Fong were chemical engineers gone SEO Guru's, Ray Higdon a true master in blogging and Talk Fusion recruiting master Mark Genovese. Entrepreneurship is the way to financial freedom. Finally! The road map to tackling the biggest fears and challenges that I myself and other entrepreneurs face when starting or building home based, network marketing, direct sales or product building businesses. If you struggle with some of these same questions & concerns I can help you build your business:
Where will I fine business prospects?
What and Who are my niche audience?
How to use social media to build your business
How to use video and audio presentations to build your business
No more cold calling clients or prospects
How to building your business on a budget
How to recruit, team build and sponsoring others
How to organize your contact and keep in touch with your clients for residual income
Learning how to build a WP website or use your company website more efficiently in your business
How do I keep your clients up to date with a company news letter
How to build, use & manage capture, landing, squeeze, opt-in pages, funnel systems and SEO
    Click on the Icon logo, link name or drop down for more information
What is MLSP? Short for My Lead System Pro, formerly MLM Lead System Pro, is a system that helps you capture leads, hence the name. However, it is much, much more than a simple lead generation system. MLSP is a lead generation system, it is a sales funnel, it also is a huge support community with mentors who are making 6 and 7 figures, and it is the biggest MLM training center that I have found online, with over 200 video webinar in their archives and a new live webinar every single week (on Wednesdays). Ongoing Training and Leads for your business.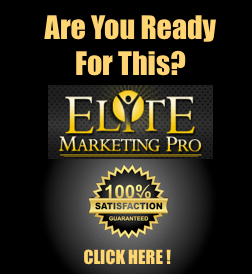 Elite Marketing Pro
What is Magnetic sponsoring? It's as a lead generation and cash flow system designed for Network Marketers from all companies. We all need leads, and we all need cash flow. Cash flow is especially important when you're trying to get your business off the ground. Generating your own fresh leads is much more rewarding than purchasing leads. The MS system also teaches you how to Sponsor. Hey, you can generate leads all day, but if you can't sponsor anyone…!
AWEBER COMMUNICATIONS
What Is AWeber? It is an email marketing service provider hosting email newsletters, autoresponders, sequential follow up, and RSS to email services for 81,000 small business clients worldwide. It's a great email marketing software used to capture names and email addresses for visitors who opt-in. This allows you to email the subscribers with newsletters, special offers, and updates about your business. Often, web owners will offer a free report in exchange for an email address. AWeber has been helping over 100,000 businesses raise profits and build customer relationships for over 10 years.
TALK FUSION
What is Talk Fusion? It's 8-Cutting Edge Video Product that Brand and Build your Business TAKE A TOUR Starting in the US in 2007, the success of the crystal clear Video Email Product quickly spread around the world. Today, Talk Fusion continues to gain global momentum. The companyhas expanded into over 85 countries and become the 8th largest online video content provider in the world—surpassing known industry giants such as Yahoo, AOL, Viacom, CBS and MegaVideo. Talk Fusion is a member of the Direct Selling Association (DSA) and the Direct Selling Educational Institute (DSEI) in Dubai, an organization dedicated to enforcing ethical practices and professionalism in Direct Selling. Estimated Company revenue 2012: